Small Bathroom Storage Ideas
In this article, I will share bathroom storage ideas that I personally used to solve the small bathroom problem. My issue is that I didn't have enough space to store items such as; towels, makeup, perfumes, and other personal objects.
It's worth noting that I didn't have a big budget for renovations nor buying expensive furniture. For this reason, I decided to repurpose a plant stand I bought for my last apartment. Previously it was used in the living/dining room, however, my new living room was smaller, which is why I decided to relocate the shelving unit.
Below I will show the materials I used for my bathroom storage ideas.
My goal is to inspire you to renovate your homes without having to spend a fortune all while reusing and recycling objects that you already have!
---
Bathroom Storage Ideas – Repurposing a Plant Stand
I love this Plant Stand because it has been with me since the first apartment when I moved to Montreal – Quebec.
I bought it in a trinket shop. It was love at first sight when my eyes connected with the elephant pattern. There was a uniqueness to the furniture like an Indian or Thai style. However, I am not sure this is the correct description, so if you have more experience in decoration, please leave a comment explaining the style!
Once I discovered the plant stand would not fit in my new living room, I thought why not another room in the condo? This way, I wouldn't need to sell it and I could repurpose the stand. After a few calculations, I noticed that it fit perfectly in my new bathroom. More specifically between the bathtub and the door. It was also ideal for organizing all my personal belongings.
---
2. Bathroom Storage Ideas – First shelf
My first bathroom storage idea came on the top shelf. I wanted some decorative objects that could resemble a SPA.
With this in mind, I managed to assemble these decoration items:
A small vintage style glass tray;
A cute vase I got from an Italian friend a few years ago;
An artificial plant, because there is no natural light in the bathroom;
Some homemade Bath Bombs received as a gift from a friend;
Essence ambiance perfume sticks;
Aromatherapy Candle to relax
Lastly, I added a handmade glass painting that I brought from a trip to Chile. An inspiring Pablo Neruda poem that I love because it keeps me living in the present:
"Today is Today and Yesterday is Gone – There is no Doubt"
---
3. Bathroom Storage Ideas – Second shelf
Moving along to my second bathroom storage idea, the second shelf. I bought an inexpensive decorative paper box, with cute details and French design. A perfect place to store my hairdryer.
I also bought a vintage-inspired bathroom storage bin with < BATH > print, to organize my cosmetics and other objects. Then I used an old two-drawer plastic compartment to organize my makeup. There was just enough room for my make-up mirror on top of the storage bins.
---
4. Bathroom Storage Ideas – Third shelf
My third bathroom storage idea was the last shelf. It also happened to be the tallest space. I used it for larger objects, for example, my towels and face cloths. All I needed to purchase, was another vintage storage bin. Then I stuck rolled bath towels in a decorative way.
I loved this project because it allowed me to repurpose my lovely elephant stand. Plus I was able to use my creative decoration skills to accomplish a new design. Overall, I'm confident that it was the perfect solution!
---
5. Bathroom Storage Ideas – Colors and details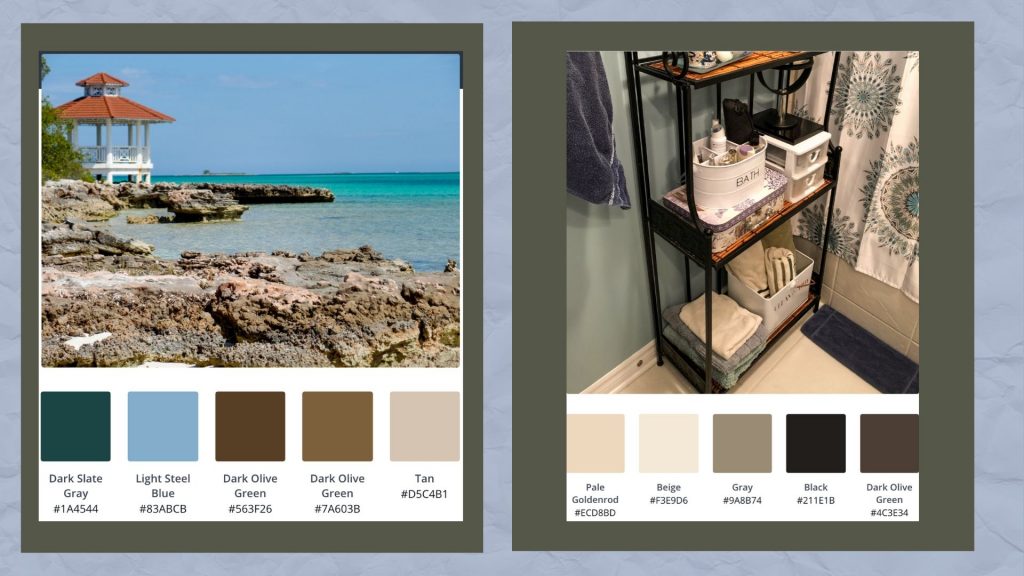 When you start a new project, you may find it difficult to select the perfect color pattern to use. When in doubt, especially in the case of my small bathroom, you can turn to nature to create a relaxing environment.
If you pay attention to the picture above, you'll notice bright sea colors on the left and earthy colors on the right. I wanted to balance the overall pattern since the plant stand was on the darker side. I personally love the sea and wanted to bring some brightness for a relaxing element. This is when I chose to add some blue to break up the monotony.
Of course, for each person it is different, you might prefer mountains over the sea. Then you can use that element as your inspiration. For me, when I think about "Relaxing", there is nothing better than with the colors of the sea.
For this decoration, I based myself on pictures I took in Cuba which I had the opportunity to visit back in 2016. So follow your inspiration no matter what it is and bring your home decorations to life.
To recap, if you also love nature colors then use this as your inspiration. This will help you with the initial phase of choosing a color pallet for your next project. My tip is that you use the CANVA tool. I find it very interactive because you can upload your personal photos and then CANVA provides you with the pallet schemes.
CLICK HERE if you want to check the CANVA Color Palette Generator to extract your favorite colors!
---
Check the YouTube video out with the final result!
---
6. Suggestion to make your own Bath Bombs and other SPA products
As a bathroom storage ideas, I would suggest this EBook that inside the pages of The Handcrafter's Companion you'll discover an incredible collection of more than 126 spa product recipes that you can use "as is" or easily adapt to your own needs!
Learn how to make beauty products at home for fun and profit!
Make beauty products at home and earn extra income.
Never pay for gifts again! Customize soaps, oils, and beauty products for your friends.
Click here to learn how to earn!
Make Beauty Products. Make Money. Makes sense!
CLICK in the BANNER below if you want to know more about it!
---
THANK YOU!
If you made it this far, I would like to thank you for reading this article about my bathroom storage ideas!
Leave a comment and share this post with your friends and family that might need some inspiration to start a makeover and get cozy home decor and working space at home!